Since 1953, our family business has created a team that is committed to quality, integrity, and on-going relationships

HERE TO HELP
In-store with professional service and suggestions

ON-SITE WITH HARD WORK
On-site with hard work and helpful watering and plant care instruction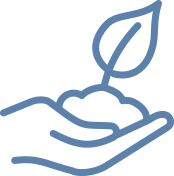 GARDEN CLUB
On-going support through Garden Club plant care newsletters & advice, extended warranties and a dedicated account manager
DESIGN SERVICES
At Van Dongen's, our design and landscape staff know that each garden is unique.

Successful outcomes begin with careful and calculated preparation. Whether you are a Do-It-Yourselfer or looking to have a landscape team come in and make an immediate impact, a well-developed design will certainly have you on your way to achieving your dream outdoor living space! Have a look at the services we offer to determine what will work best for you.
Van Dongen's proudly offers FREE in-store consultations to assist you in the planning and execution of your project. Take advantage of the expert advice we can give you to ensure your particular undertaking will be a success! We pride ourselves on exceptional service right from the very beginning and look forward to partnering with you for all of your landscape needs. It is helpful if you provide us with some photos of the area, rough measurements, and preferences regarding your particular tastes. We can provide you with a sketch, suggestions, and approximate pricing for your project – ALL FREE OF CHARGE! Contact us today to get started!
LANDSCAPE CONSULTATION
A Good Starting Point for First-Timers or for Planning Next Steps in an Existing Garden:

Our landscape consultation starts at your home where one of our designers will be able to meet with you and discuss options and opportunities at the site. This is often the best option for the following:
EXISTING GARDENS THAT ARE BEING
EXPANDED, UPGRADED, OR ALTERED.
We can identify plants and possible plant care concerns.
We can recommend what should be kept, and what can be added to complement or accent your existing landscape
BRAND NEW GARDENS THAT
NEED AN INITIAL LAYOUT
We are able to assist you in setting the tone of the garden and highlight which trees and "structures" would best suit your environment
We can identify privacy and environmental concerns and how to best address them
We can suggest which plants would be suitable now and into the future for your garden to thrive!
In the end, you will have the confidence and peace of mind that your garden will not only look good and satisfy your taste, but will also address other important factors so that you do not run into problems in the future. This consultation starts at a fee of $100.00 and is fully refunded as a deposit on projects exceeding $1,500. Ask in-store for further details.
FULL LANDSCAPE DESIGN
Best for the Do-It-Yourselfer or for Complete Projects:

A full landscape design is a comprehensive process that involves many steps which ultimately results in a full, to-scale drawing that you can use towards the creation of your dream garden. Whether you are a Do-It-Yourselfer who is looking for specific, detailed instruction, or someone who is looking for a comprehensive plan to coordinate a complete overhaul of your landscape, a full professional landscape design may be your best option.
This process includes:
1. INITIAL SITE MEETING
Measure existing gardens, gather information on tastes and desires, layout of basic concept.
2. MEETING AT VAN DONGEN'S FOR FIRST REVIEW
Here we will have a first draft design printed of your project, show you possible plant materials, discuss possible substitutions and create a list of modifications based on your preferences.
3. FINAL PRESENTATION
2 copies of your final design (to-scale; computer-generated), full list of plant materials, quote on phases of project.
4. OPTIONAL ITEMS
Colour design, 3D rendering of design.
This service starts at $400.00 for front or back yard design, or $800 for the full property (based on a 50′ x 120′ property). The design fee can be rebated to clients via a 10% discount on product and services at Van Dongen's.
LANDSCAPE SERVICES
Van Dongen's is committed to helping you create the garden and outdoor living space of your dreams!

Our landscape division works seamlessly in tandem with our garden centre and nursery staff to execute your goals and vision. Our landscape services can range from the delivery and placement of heavy materials for the "Do-It-Yourselfer" to complete, to providing complete installation of all of your landscape needs from start to finish in a timely and professional manner.
WE SPECIALIZE IN:
Tree Planting – Large and small
Garden Bed Creation and Layout
Sodding and Grading
OUR PARTNERS DELIVER EXCEPTIONAL
QUALITY THROUGH A NAME YOU CAN TRUST:
Decks and Fences
Irrigation
Gazebos and Trellises
Tree Removal and Pruning
Pools and Built-in Hot Tubs
Van Dongen's is a full-service nursery which is equipped to handle and re-locate trees of practically any size!

Our landscape department boasts a variety of tree spades - special machines and trucks designed to move large specimens. The purpose of these machines is to move trees that many would consider unmovable! If you are looking for immediate coverage for a newly formed gap, solution to a privacy issue, or to re-locate an existing sentimental tree, Van Dongen's has the means to help realize your goals.