Van Dongen's is committed to the safety of our staff and clients.
The following measures are in place
All clients are required to wear a mask in the garden centre building and outdoor area (enclosed fence area regardless of being outdoors)
- Facilities have capacity limits where are monitored and enforced by staff
- We provide the option for online and curbside deliver with fulfillment same day
- All touch points including handles, pin pads, carts are sanitized frequently, and in-between use we ask you use our hand sanitizer provided at all touch points
- Staff and all Essential Visitors are required to actively screen before entering the facility.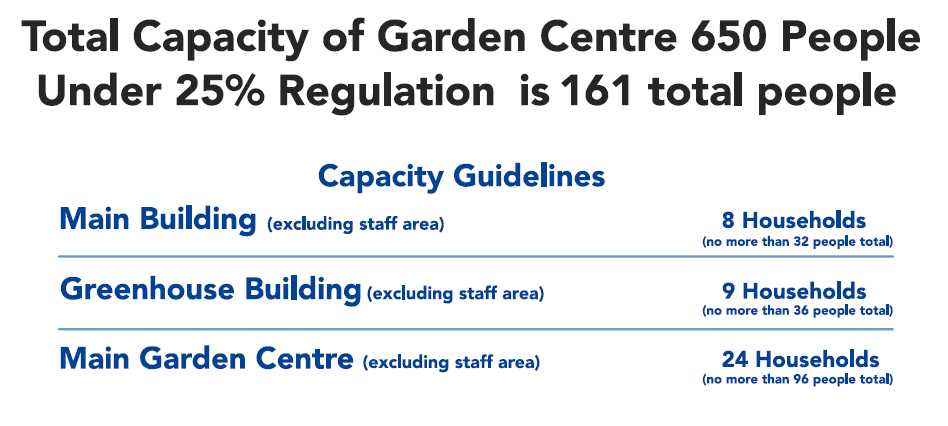 How Van Dongen's is responding to COVID-19
In order to support our families, staff, community, health workers and government objectives, we are once again laying out how Van Dongen's is responding to the Covid-19 pandemic. We will remain closed as an operation until April 13th, after which although we will be posting hours of operation, the general public should know that our operation has scaled back. At heart, we are farmers, operating several farms including our main facility where we grow and sell to the public and landscape trade. We are humbled that the Government of Ontario has recognized the importance of plants and included this in their definition as essential services under section 21. Providing plants that care for our environment, feed us, support our ecosystem are all vital to humankind, and being able to continue to care, grow and sell these plants that in most cases, have taken years or decades to go is important to our operation as well.
Therefore, our clients and community can rely on Van Dongen's to supply trees, plants and plant incidentals from our Nursery, Garden Centre and Greenhouse. We are working very hard to retool our sales office, and website to accommodate the sale of products, but also make the health and safety of our staff and community top of mind. Our retail garden shop store has been closed, and we have created a wide open reception to follow best practices in social distancing, which can facilitate curbside and over the counter pickups only at this time. We are working towards having the ability to shop and browse our plants, and return to offering our excellent in-store service and consultation for our clients looking for landscaping and gardening advice. However, we will start this with appointments, and then graduate to opening departments once we feel we have implemented all the measures required to be safe.
Since 1999, we have published our products and pricing online, demonstrating our abundant selection, quality and value we deliver as a grower. Clients can already start viewing our products online, the sizes and pricing is available, and we are very connected to our phones, emails, and other video conferencing systems to facilitate any questions and process orders. We will update this once our ecommerce solution is available as well. In the meantime, please reach out to us!
Our other departments are working to service our clients as well. Landscape Design & Build are also adapting. Many of our consultations can be performed virtually and with many changes to our processes can allow clients to enjoy their outdoor space with the help from our team.
Overall, we wanted to be very transparent with everyone surrounding our organization; staff, clients. We unequivocally will support the recommendations of Health Canada. Anyone on our premises must remain two meters apart from any other person, and in the rare event this is not possible, the proper PPE must be worn. Clients and/or staff who has any symptoms of COVID-19 , symptoms of illness , have traveled outside of Canada, have been in close contact with someone who has or is suspected to have COVID-19, has been told by their local Health Unit to quarantine, or personally have or are waiting results on COVID-19, will not be permitted to work, or purchase from us, unless cleared through the necessary medical procedures, in accordance with Health Canada. Anything below these standards will require us to defer the staff person from working, or the client from purchasing, until the required steps are taken according to Health Canada, and will be asked to leave our premise immediately.
We aspire to provide a high level of service to our clients, admit this challenging a time, and ask for only patience in return. We will do our very best to provide plants and trees to our community in a safe and responsible manner.
If there are any questions please reach out to us. As the trees begin to bud, we look forward to the seasons ahead.
Be Well and Safe,
Michael Van Dongen